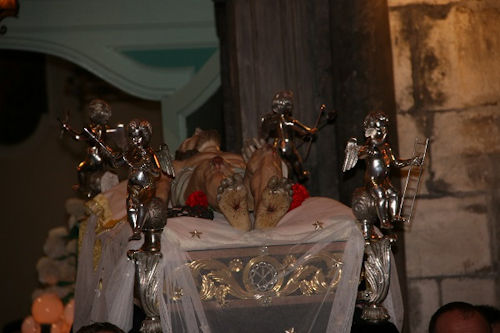 The procession, also known as the procession of the Dead Christ, sees the participation of hundreds of brethren wearing the traditional red habit, symbol of the charity flame, adorned with a white wimple (a cloth standing from the neck to the breast) (The Madonna comes out from Holy Trinity Church!) of Spanish origins and with a badge more or less wide according to the importance of the person wearing it.
The procession leaves the Holy Trinity Church at h.7.00PM (there is actually a traditional and pleased delay) preceded by a brass band playing famous dead marches.
The long line covers the main city roads with a well defined disposition, which sees at the beginning a square of lamps surrounding the "Trunk", a Cross covered with red velvet and silver ornaments.
Then a group of paired lamps at the borders of the street, closed by a small group od children with the Passion symbols. After them there is the choir, composed by 120 choristers divided into tenors, barytones and basses, singing different kinds of evocative singing of Miserere; it's one of the most spectacular parts of the procession and thus the most aimed.
Soon after, the Priest precedes the Christ's Coffin, followed by the Statue of the Virgin, dressed in a black cloth which will be left only at the moment of the Sunday "run" in the square. The procession is closed by the gonfalon and the civil, militar and religious authority representations, and by a lot of believers.
Late in the evening the procession comes back to the Holy Trinity Church after a pause on the parvis of the Church of the Grave and the crossing of the very crowded main street.