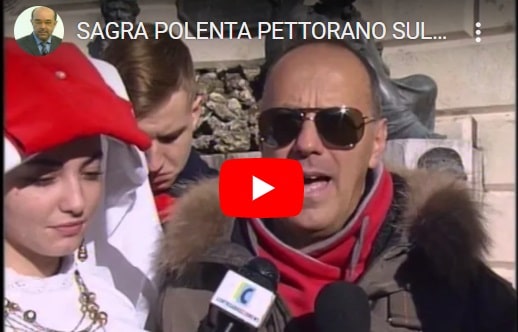 The Polenta feast is a famous appointment for all gourmets and tourists that each year come to Pettorano sul Gizio or nearby for skiing or tourism.
The traditional feast, organized by the local ProLoco of Pettorano sul Gizio, returns every first Sunday of beginning of the year, in Piazza Umberto I from h. 12.00 am.
On this day we celebrate the main dish of the gastronomy of the country, among the most beautiful villages in Italy, the "polenta rognosa" (mangy polenta), a typical local dish that, in the past, represented the only food of the humble workers of Pettorano, with the particularity that it is cooked in a copper pot and cut with a thread. It is made by corn's flour, extravirgin oil, bacon, sausage and pecorino cheese.
In the squares of the village will set up covered food stands where you can taste this excellent dish, cooked it in different recipes, accompanied by a glass of local wine and other typical products such as "pizzelle, crustole, mugnoli and cazzarielli". The day is enlivened by live music and you can visit the different stands and markets selling local products.